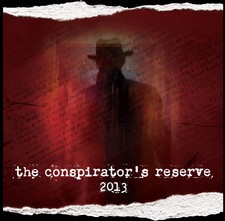 2013 The Conspirator's Reserve
Fairbairn Vineyard is a unique and wonderful site. Without trellising, the unruly, head trained vines are reminiscent of wild brambleberry bushes. The vines are dry farmed and in their struggle to survive without irrigation, produce fruit with intense, concentrated flavors. We took care to preserve the expression of the vineyard's character in the finished wine.
Wine Enthusiast's Matt Kettmann describes the wine this way, "fresh-pressed blackberry, violet and lilac aromas, with the slightest wafts of smoke and tar. Although the tannins are quite firm on the sip, this wine is still young and should age well, allowing the bright acidity to continue showing flavors of beef and tart berries in years to come."